Overview
Volunteer peer supporters inspire, encourage, and support you, and contribute to your personal development. You can expect receive emotional support, learn about available resources, and gain hope from someone who lives with psoriatic disease.
Frequently Asked Questions
How do I choose a volunteer? First complete your profile with information on what help you are looking for. Then browse through the list of volunteers and create a support request.
How long will the supporter be available? We ask our volunteers to make commitments of at least six months to one year in order to ensure that the participant is able to fully benefit from the relationship. If a volunteer must leave the relationship early, we request at least one month's notice in order to search for a replacement volunteer with similar background.
Relationship is not going well or I am concerned about the connection, what to do? We encourage letting the volunteer know about the situation and contact the Admin Immediately. We will provide our full support to resolve the situation in a positive and satisfactory manner.
Find a Peer Supporter Today!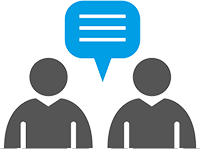 Talk with someone who knows what you are going through here.
Participant DO's
TAKE A PROACTIVE ROLE IN SHAPING UP THE RELATIONSHIP
Understand what you want from the support relationship and communicate your goals and aspirations to your supporter.
Set aside time for the process and keep all scheduled appointments with your supporter.
Respond in a timely manner to your supporter's feedback. Respond to emails from your supporter at most two days after receipt.
Be open and honest about your challenges and weaknesses. 
If something concerning the supporter needs to be discussed with others, it should first be discussed within the support relationship.
Participant DON'Ts
Ask for advice on everything. Have a purpose in each request.
Blame the supporter if his or her advice doesn't work out.
Expect the supporter to know all the answers.
Commit yourself to obligations you cannot keep.
Disappear. If you feel you no longer would like to continue the relationship, please let your supporter or admin know.